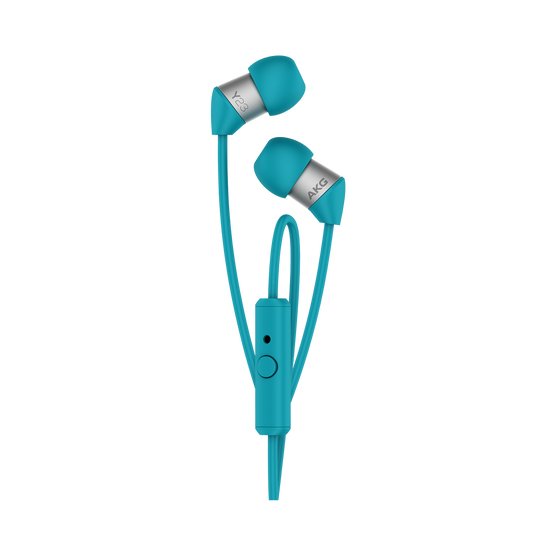 The smallest, lightest, in-ear headphone with the greatest sound
Hard to believe AKG could deliver the quality of sound and connectivity you've come to expect in such an ultra-small model. Available in four funky colors.
Award-winning, studio-quality AKG sound
Specially-selected 5.8mm drivers deliver precision sound with the sound quality properties AKG has made famous.
High-end connectivity
One-button, universal remote connects you to most smartphones instantly.
As portable as you are
The Y23's are so 'invisible' and so lightweight, you're unlikely to ever remove them – if you even remember they're still on. They'll travel everywhere you go.
Unique, custom fit is key
The Y23's secret is found in its innovative ear-tip technology and to the four sizes of ear sleeves they come with. Made from two materials, they are designed to maximize the fit between the headphone and your ear.
Studio-quality sound in the smallest in-ear headphone available – featuring extreme comfortability with a featherweight design in four funky colors.
AKG Y23 headphones are so small, you won't believe your ears when it comes to their ability to deliver AKG-quality sound definition. For those who find typical in-ear headphones overly bulky comes an ultra-small, highly-connective solution that still delivers on studio-quality sound. You won't know you're wearing them given their ultra-light weight, miniature design and the choice of four available sizes of ear sleeve for maximum fit.
Incorporating a one-button universal remote control with microphone, the Y23 offer you instant connectivity with almost all smartphones. Designed to appeal to those who find typical headphones too big and too bulky, the secret of the Y23's success is found in their high-caliber sound. You'll take them everywhere you go – largely because you won't even remember you're wearing them. And that's before you realize you really can't do without them. Perfect for those living a fast-moving lifestyle which demands staying connected to the real world.